Next show 22/04/2017 – Lille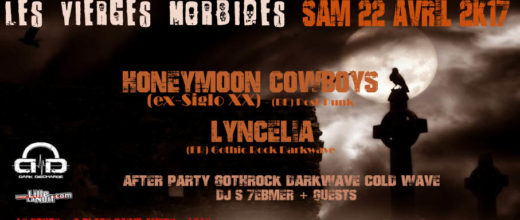 This is with great pleasure that I will be the opening act for Honeymoon Cowboys (ex Siglo XX) on 22nd April in Lille (fr) at Le Rouge. Don't forget to join the facebook event.
I'm really impatient to be there and share my music with all of you. My setlist is almost ready and it will be intense.
Les Vierges Morbides / Dark Discharge presents
HONEYMOON COWBOYS
LYNCELIA
8:00 pm – 10€
+ DJ set Party (Gothic, ColdWave, Darkwave) by DJ S 7EBMER + Guests
Le Rouge, 8 place Saint André, 59000 Lille