Lyncelia is a Gothic-Rock/Coldwave solo project based in Paris.
Started in 2008, his last video is available since 15 september 2017. This video clip demonstrate its commitment to supporting authentic and natural women with their curves and their complex and the tolerance for all LGBT sexuality.
Lyncelia is also an ode to femininity where dark feelings like solitude and melancholia have hope to be trasnformed into light by love. In short, a project which is not only music, but also gives way to sincere values, deep and full of authentic feelings.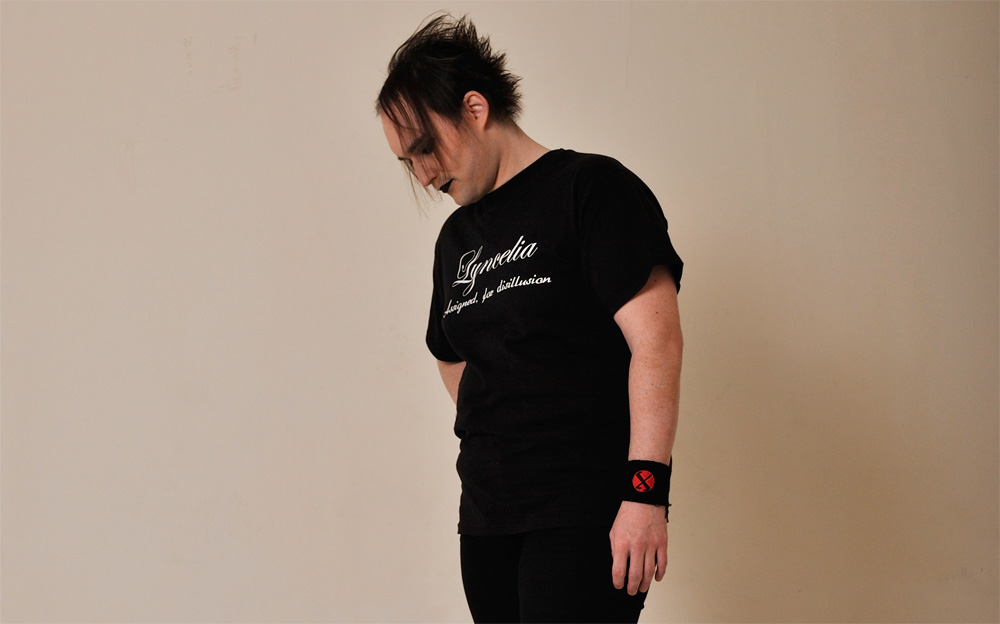 How you found the name "Lyncelia"? Has it a particular meaning?
I wanted a band name with no particular meaning like a sentence or a representing idea. I wanted a personal and feminine name which sounds like a first name. One day of August 2008, the name "Lyncelia" stood out from my unconscious by mixing several feminine names.
Lyncelia could represents the lost love we try to find, this outside entity guiding our steps on her way.
What do you listen to at the moment and who could possibly serve you as inspiration for a next album of Lyncelia?
At the moment I have a crush on Gary Numan's last album "Savage" that I find sublime. I am interested by the way he makes Electronic Music with a Rock feel with lots of subtlety, details and precision.
Lyncelia has a very intimist side at the level of its words, do you write according to your own moods and personal experiences?
This is a fact that my lyrics tell in a sense my personal experiences, my felt, my doubts, my fears, my desires…
Lyncelia represents my life and I put in all my heart, all my energy, my feelings and my "guts" inside. This project represents more than music for me, it represents my passion and my life. In the bad moments when I was at the very worst, this project allowed me to exteriorize and put words on what I felt. It gives me the strength to stand and rise by giving me a motivation and a purpose to achieve.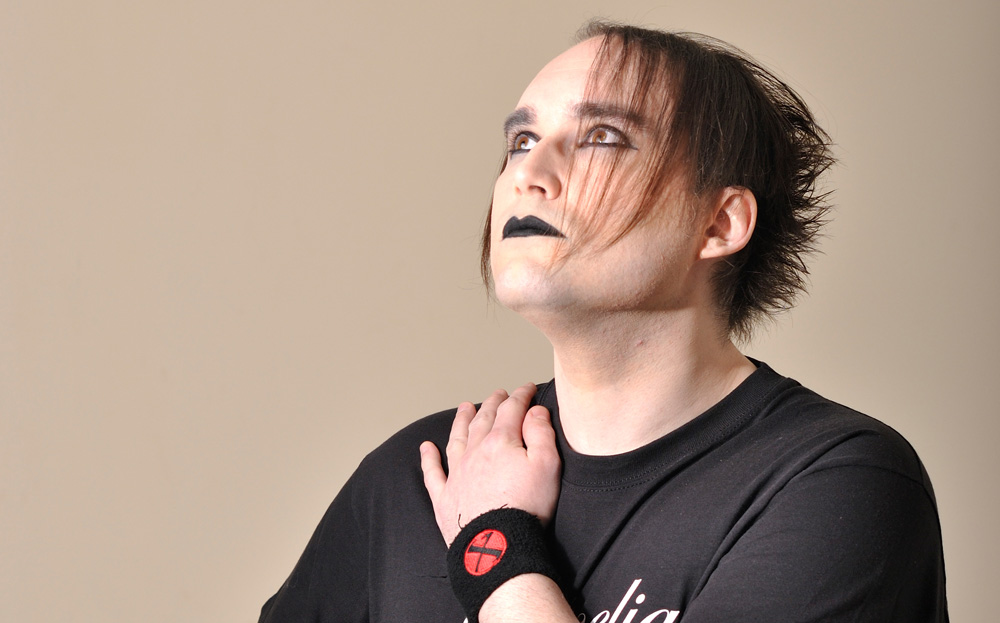 What are you working on at the moment?
At the moment I work on new compositions and on the writing of new texts. In parallel of this work of writing, I'm thinking about new clips I would like realizing in a near future.
How came to you the idea to shoot the video clip of "Unbound Pleasure"?
It is an idea I had in mind since the composition and the writing of the title. The text tells the story of a girl about to discover a new side of her personality. She's not sure of her feelings and the way she feels, she is tourmented between the apprehension and the excitement to become the one that she never was and to give way to the other one and her own desires.
I thought during long month how to realize this clip. It was clear that I wanted no nudity and no more of vulgarity. I also chose to highlight women with their forms and their complexes because it's what makes them sensual and give them a sensibility and an interesting fragility because it's what I love and what affects me. It didn't interest me to have models with calibrated forms, with false hairs, false lashes, false nails, false look. By far, I prefer women's authenticity with real and feminine curves reflecting the reality of the women such as they really are and not the diktat of woman that always must be more and more thin, what represents a narrow and falsified vision of femininity as can be seen in the media.
What would Lyncelia need at the moment to grow even more?
I think it would be good to have musicians to complete the line-up of Lyncelia. I look for a bass player and possibly for a guitarist to be able to come along on stage and give a new dimension to my music. I worked during 5 years with a bass player (from 2010 till 2015), thus it has been 2 years since I resumed Lyncelia solo but it is not an end in itself. I would like being surrounded with musicians who will bring another scale to Lyncelia but for the moment I haven't found the good people yet. Lyncelia is an ambitious project which asks for many investments of time and I need motivated and serious musicians on whom I can count and with whom I can trust on their musical work.
With what artists would you possibly like to make collaborations?
I have to admit that I did not think about this eventuality. I am not used to make collaborations, except with Amélie who placed her feminine voice on several titles of "Forsaken Innocence". What brought another sensibility to this album. I think that I shall like making collaborations with artists playing in an a little more electronic esthetics.
What's your favorite song of your last album " forsaken innocence "?
Very good question. It's difficult for me to make a choice among these songs because if they are on the album it's that I like them all. I have a particular tenderness for "Lost Anastasia" and "Blind" who are very representative of Lyncelia.
You are present at the same time as singer, guitarist, bass player, keyboard player, and on the programmings, how did you arrive to control and master all these instruments?
It was gradually, I began music with the guitar in 1994, it begins to make a number of years…
Due to playing and composing with my previous projects, I began to be interested in the recording and in the programming of Drum Machine what led me to learn to play drums in 2002 to better understand the music I listened to and especially the one that I played to compose it better. Then over time, compositions, projects and recordings, I eventually measured what failed and that it would not bad be to add bass and keyboards and thus I began playing bass in 2006 then the synthesizers in 2007.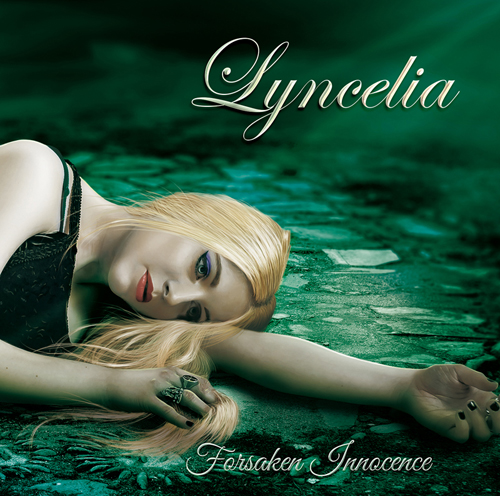 Can you tell us which concert of the gothic rock / coldwave scene marked you most?
It's a difficult question, there were so much concerts. I hesitate between Clan of Xymox at La Locomotive in 2006 and Wayne Hussey solo at Le Klub in 2014…
I shall say Wayne Hussey, because this day he sat alone on stage with his guitars around him and some effect pedals at his feet and he realized an awesome and hallucinating performance. There were so many feelings in what he played and a certain power in subtlety coming from its music, that interested me and transported me in its universe. I adored. I think that his performance marked me a lot and proved that even alone we can make concerts on stage and share our passion and our music.
Where can we follow your musical news and current events?
I am present on social networks, Facebook, Twitter, Bandcamp, YouTube or Instagram but all my musical news and event are also centralized on www.lyncelia.com
This is the easyer way, that avoids navigating between several social networks to find the information for which we look. It's the only place where you will find everything about Lyncelia. The news, the concert dates to come and passed, the discography where you can listen to albums, biography, videos, all the lyrics of songs and even an online shop.
April 2017: Interview by Isabelle
Alexis, the founding members answered to my questions during this interview. We talked about the band, his musical work and why he creates Lyncelia.
Isabelle: How many members are in the band?
For the moment I'm the only member in Lyncelia. But it was not always the case; I worked during 5 years (from 2010 to 2015) with a bassist. We had some different point of view and some musical divergences make this collaboration came to an end and I took this project in solo. But I want to have other musicians to make a real line up.
What instruments do you play?
On stage I only sing and play guitar, which is quite good enough.
Moreover, in Studio I also play bass, synths and I program drum machines. This is quite schizophrenic but this is a part of my madness for music.
How many times do you play music?
I started to play guitar in 1994 (I get so old) by learning to play Metallica's songs.
Then I played drums between 2002 and 2010 and during this time I started to play bass in 2006 and keyboard one year later in 2007.
I also program drum machine since 1997 thanks to DAW that is a part of my working process.
How comes the idea to create Lyncelia ?
I had the idea in 2004 to create a coldwave band but I hadn't too much times and I didn't had some songs, so this idea don't passed the only test-session with some musicians, inconclusive.
This is in 2007 when I wrote some songs on my own in a coldwave style that comes to the creation of Lyncelia few months later the 1st september 2008.
What are the artists that influenced you for this musical style ?
I can say that it's The Cure, The Sisters of Mercy and Clan of Xymox that gives me the envy to come in this musical style, and for the text I can say the writings of Charles Baudelaire that allows me to put some words on all that was hidden inside me : doubt, fear, contradiction, melancholia, despair, spleen, finding the loved one…
With this I want to make something beautiful and cathartic.
What importance in your life have music, and what importance have Lyncelia in your life ?
Music is very important for me, I listen a lot to music, everyday. I love discovering some new things et go to concerts.
Lyncelia have a bigger importance in my life because it's the most important project of my life and it maintained and supported me when I was down.
I passed a long period of doubt and disillusion and Lyncelia allowed me to express these feelings and make them positive and creative.
It helps me a lot to pass this dark period, to keep motivation to carry on and to noticed that I hadn't tell all I wanted and it remains lots of things to complete in my life and with Lyncelia.
What message do you want to spread through your music?
I haven't the pretention to spread a message to change the world, the world is like it is and we must keep the motivation to go through.
I only propose a universe where the listeners can escape from their daily troubles during the time of an album or a concert. I express what everybody had hidden and what some persons live everyday; if these persons recognize themselves in my music and if it helps them to have the force and the motivation to go onward, so I completed my goal.
Are there other musicians in your family and friends?
Ho yes, there is some musicians in my family. My sister is a lyric singer (you can hear her on Forsaken Innocence album), my father started guitars few years ago and my beloved is also a singer. I'm always surrounded by musicians, this is really appreciable.
Interview by Isabelle R.
www.darkitalia.it – April 2013 : Interview by Lunaria
1) Hello and welcome back, here, on Darkitalia! How are you? Last time, we spoke about your first cd, "Lovelorn", and now you are back with the new cd, "Assigned for Disillusion"!
Hello Lunaria, we are fine and very pleased to be here to speak about this second album. We worked hard during more than two years on it to have the best results and we think that we achieve something quite good.
2) Well, I'd like to speak about the artwork: we can see the face of a Blonde Dark Lady, thinking about sadness. The long blonde hair are moved by the wind. Up, on the right, there is your logo. Opening the artwork, we can see the same blonde woman, alone, in a desert, with broken stones and the red sky. What is the meaning of all this artwork, created by Sandra (http://s.a.n.d.r.a.free.fr )?
The meaning of this artwork is absolutely connected with the music and the lyrics based on femininity and Disillusion feelings. When you come to a life full of failure, you can notice there is only Disillusion remaining. At this moment, you feel that all your life was only illusion and when illusion disappears you're like this lovely blonde girl, alone, lost in a desert life, saddened.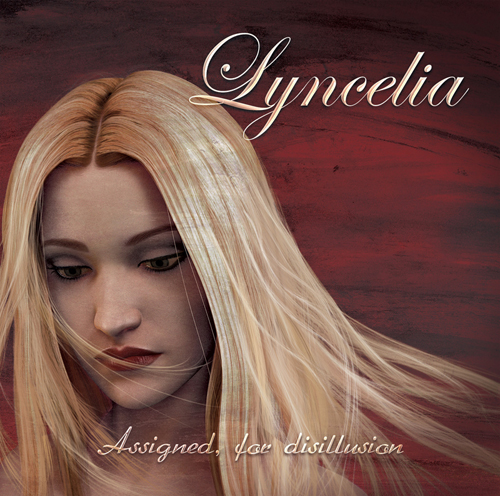 3) Musically, you have created a sound clear and powerful, with some synth. In the review, I have spoken about a crossover with Cure, Clan of Xymox and The Sisters of Mercy, to describe your music style. "Linxya", "Blondestar" are two examples of songs based upon the best parts from Cure; "Strain", I think will be loved by the fans of Clan of Xymox, and "Promised To Failure" and "Unveiled Illusion" are marked by the hand of Sisters of Mercy! "Phenixia" is the most heavy and gloomy song of the full cd, and one of my fav song, and I think you are very cold, colder than these bands, in my opinion, and more hypnotic, under the legacy of the 80's ColdWave movement from France, your country…!
Thank you for these references, we love this bands! The 80's ColdWave in France were fantastic and really intense. Our music is between this bands but all comes really naturally without thinking about it to create something quite personal and we think that our sound is now easily recognizable even between this bands we adore.
For « Lovelorn » I didn't have references for the sound I wanted, even The Cure, Clan of Xymox or The Sisters didn't have the sound I wanted to hear so I try some things and it worked. But for this album, I wanted a sound more powerful because the songs demanded this kind of sound and I spend hours and hours during the writing of the album tuning the drums sound and the guitar sounds to have exactly what I wanted for the recording sessions of « Assigned, for Disillusion ».
4) I have read the textes. You are always speaking about a concept based upon strange female figures and divas, upon the idea of the seductive -almost cruel!- Femininity; for example you say "So red lips/your blonde hair" in "Distained Perfection"; in "Blondestar" you say: "I feel her so close to me/ my hand could touch her body/nothing, the light's out/ an idea of despair fills my heart/ Will I see her again?…..The Blondestar has gone." as this mysterious blonde girl would be a fairy or a Goddess! In "Linxya" you sing: "Let me drown in the waves/I must die for loving you": it seems an impossible or dramatic love story! Other themes you write are the desideres, the sadness, the solitude, spleen; in "Assigned, for disillusion" you write: "I let my youth, my vitality/I lose my values…Every night I wish to die/and never wake again". In fact, you have written: "From the melancholy of "Lovelorn", we come to distress and despair of disillusion as said by the title "Assigned, for Disillusion". This feeling of having lost all in which we believed and can't planned ourselves in a hypothetic future." So, is it the Music the only cure to this existential disease?
For me the music is the only solution to get this feelings out of me. The last two years was the worst of my life. I passed through failures, Disillusion and despair and what I felt during these two years spawned "Assigned, for Disillusion" album with this dark and strong themes of sadness, solitude and spleen.
And as you noticed, the themes of femininity are also the heart of this concept with saddened female figures and dramatic love, the Orphée-like concept to never be able to reach the sweet beloved. "Blondestar" is the example about this dramatic love: To foresee a shade in the distance with the shape of a woman, and when you want to reach her light, she disappears. Is she real or just an illusion too? Will I see her again?
I'm fascinated by femininity because it represents the real beauty, there is nothing more beautiful than a woman. And this beauty can be sharpened: so seductive and so destructive just like in Charles Baudelaire's poetry "Les Fleurs du Mal".
5) And now? Are you planning something like making a video? I have read that the model of the artwork is Rebecca Roske (http://liam-stock.deviantart.com) …
We really would like to make some videos but for the moment this is not planned but we really think about it. The model for the inside girl is Rebecca Röske, she is a great model. Sandra (who made the artwork) wanted to worked with a picture of her so we asked Rebecca and she gave us her authorization.
6) Are you planning some concerts, in France, to support the new album?
Yes, we want to planned some concerts but for the moments we have nothing really confirmed. It is more and more difficult to find concerts in France for this kind of music.
7) Ok, finish as you like and thank you!
Many thanks for your questions, it was a great pleasure.We hope that you will enjoy this new album as we enjoyed to produce it. Keep on supporting music!
www.darkitalia.it – February 2013 : Interview by Lunaria
1) Hello and welcome here, on Darkitalia! Let's introduce yourself, with a small bio of the band.
Hello, we are Lyncelia from Paris (France) we play ColdWave / Gothic music principally influenced by bands like The Cure, Clan of Xymox, The Sisters of Mercy or Paradise Lost but we also have many other influences.
I am Alexis, the singer and guitarist of the band and there is Claudia on bass.
I created this band in 2008 as a side project and I made the first album "Lovelorn" in 2010, Claudia join me just after the recording of this album and now we are about to release our second album "Assigned, for Disillusion" in march 2013.
2) Why have you chosen this monicker, Lyncelia? It sounds really gloom and erotic. In your song, taken from the debut album "Lovelorn", you sing: "You are the glimmer that light my dark life/without you I sink into hypnotic void… come to me, Goddess from past time, Muse of Redemption… Drive my hand to your blonde hair". So, is Lyncelia a sort of ancient Goddess?
I am very pleased of what you said "really gloom and erotic" because this what I wanted, what it is supposed to be: A personal and unique strong name sounding like a girl's name, so mysterious and sensual.
I created this name because I didn't want a name with a too noticeable signification and first of all I wanted a name really unusual.
Lyncelia represents for me a female entity, representing the ideal and the incarnation of perfection and seduction. This is not an ancient goddess, but this could be my goddess from my past time, the lost entity who call my name at every second of my life, the ideal beloved I would love to find and to join.
3) Speak about your album, "Lovelorn" recorded in 2010; it sounds really good, as old school album linked with Sisters of Mercy early songs (your songs like "Persistence of vision", "Assigna" or " Ghosts of Past Lives"), with a touch of modern electro influenced, for example in "By all these fears" or "Diamonds" and Death Rock, in "Extincted", "Over the Senses" and "Clemency". I like the cover, too, so chic, charming and gothic; I love that blue rose, "drowned" in a violet atmosphere! It express your music, in my opinion: silky, gloom, ghosting, and decadent.
Many thanks for your description of this cover, this is exactly what I wanted to express when I worked on it. And yes, "Persistence of vision" is one of the first song I wrote in this style in 2007 and for this one I said "Lets make a song like the Sisters' first album".
After writing few songs in 2007, I decided to create this project in 2008 just for exploring this kind of music I loved and instruments and musical tools I don't used to play at this time (before this I had almost played only Metal music with a Death Metal Band). and few months later being more comfortable with this melancholic music that begins to suits me more and more according to my personal feelings getting more and more melancholic, I decided to record "Lovelorn" and this album put the start of this band and its musical identity by using two differents and complementary guitars parts with clean sound or just a little amount of overdrive, important bass lines, drums machines and synths…
4) Speak about your cover, dedicated to the French Singer Serge Gainsbourg…
This cover comes from a proposition we received in 2011 to be part of a tribute compilation celebrating the singer.
Claudia thought that the song "Sorry Angel" could suits to our music. So we decided to make this cover and we thoughts that we managed to made a personal cover keeping the feeling and originality of this song. This is a Lyncelia-like song but we could easily recognize that it is still the song of Serge Gainsbourg.
5) Actually, you are working on "Assigned, for Disillusion"; the cover shows a melancholic blonde woman… Lyncelia? Can you describe how your sound will be? Well, I'd like listen to your music singed in your language… Do you always use english, or are you planning to sing in French language too?
Yes this blonde woman could be Lyncelia as she could also be "Linxya" or "Blondestar". I'm so in love with this artwork.
The sound of this album will be far more higher and better than "Lovelorn". The songs are also deeper, more intense, desperate and powerful with really strong and personal lyrics.
We comes from the melancholic feeling of "Lovelorn" to distress and desperate feeling of disillusion as said with the title "Assigned, for Disillusion".
This is not planned to sing in french for the moment. We made it on the "Sorry Angel" cover, it was a great experience but I really love the sonorities of english that suits so well for rock music and I must say that english language makes me "shyless" to sing very strong lyrics.
6) You have already play lives; in 2009 with Soul Disorder; in 2011 with WolfLady and Malaise Rouge (really cult band!), in 2012 with YG and Audible, and with Electric Press Kit and Skinsitive… Tell us something about your gigs!
Playing live is something very special. This is where the music takes its life and transcends ourselves surrounding us with its energy and feelings and by making our minds connected each others to share this energy and feeling.
We love to play live, we have great moments when we are on stage and we are always impressed when we see people enjoying or dancing to our music.
7) We have already spoken with the French Cult Band Coldreams and Excès Nocturne; we have interview Les Modules Etranges, too. The Dark and Goth scene from France is wonderful; you have had amazing band such as Baroque Bordello, KaS Product, Corpus Delicti, Trisomie 21, Leitmotiv, Clair Obscur, Tanit…How are things, actually, in France? Speak about the music scene!
The gothic music scene in France is very interesting, as you say we have some great bands.
But unfortunately, this is not enough. I blame no one, but gothic peoples in France largely prefer going to gothic parties instead of supporting french bands by going to concerts. Adding to this the fact that the price to hire concert places rise more and more years after years make that here in Paris this is actually more difficult to find some concerts.
I also think that gothic peoples in France also love discovering foreign bands as foreign peoples might loves discovering french bands… Maybe the fact that it is exciting to discover some bands far away coming with other or different cultures. Who knows…
8) Ok, finish as you like and thank you for speaking with us!
You're welcome, Many thanks to you for this interview. Your questions are very interesting.
You could find us at www.facebook.com/lyncelia and our second album "Assigned, for Disillusion" is about to be released in march 2013 on digipak cd and digital download that both will be available at www.lyncelia.bandcamp.com.
We hope that you will have the same pleasure to listen to our music than us making it. Keep on supporting music.
See you!
– Alexis –
www.nowtunein.com – September 2011 :
1 – What is your name and what do you play?
Our name is Lyncelia and we play ColdWave / Gothic music.
The band is formed by Claudia on bass and me aka Total(e) on vocals and guitars.
2 – Describe your music for anyone who hasn't heard it yet?
Lyncelia represent an immersion in a cold, deep, introspective and melancholic music closed to 80's sonorities but with a modern sound.
Lyncelia is also a desire to transcend the codes to express all that is hidden deep within: Femininity, fears, anguish, disenchantment and despair over the senses.
3 – Share with us a brief history of the band?
After writing few songs, I decided to create this project in September 2008. First of all as a personal side project and after composing more and more, I recorded the first album and then I wanted some musicians to perform live. This is at this moment I met Claudia who join me on bass in May 2010.
We release our first album called "Lovelorn" in October 2010 available on download here:   http://lyncelia.bandcamp.com/album/lovelorn and also on Itunes: http://itunes.apple.com/fr/album/lovelorn/id439239774
4 – How did you come up with the name of the band?
I wanted a name really personal, original and unusual, sounding like a real feminine name. I also didn't want a name with too much noticeable signification. With this in my mind I find this name "Lyncelia" that suits very well to our music and to our concept.
For the explanation, I can say that it's a mix between 2 feminine name used in France.
5 – How has your music change from when you started the band?
Our actual music doesn't features many changes since the beginning of the project, we are just fining our tunes and our style become more precise.
6 – Who or what your music influences?
Our principle influences are bands like The Cure, Clan of Xymox, the Sisters of Mercy and Paradise Lost but we are also influenced by many different bands such as Theatre of tragedy, My Dying Bride, Depeche Mode, Indochine, Client, Din[A]tod, Massive Attack and by feminine pop artists like Christina Aguilera, Madonna (and many others) as a source of inspiration.
7 – How did you get into the style of music you play?
I discover this music in 2003 with The Cure "Seventeen seconds" and I was particularly charmed and hypnotized by this particular clear guitar sound. I had never heard a music so simple and emotional and after learning more about this music I discover other Gothic bands and I say "this is the music that really suits me and this is the music I want to explore".
8 – If you could add another member to your band that is famous who would it be?
Christina Aguilera with no hesitation! I love her voice and her music. I think she can sing almost every kind of music and this is for me a dream to play and write songs with her.
9 – What is one unusual venue that you played and why was it unusual?
For the moment, we have only played few shows so we're still waiting for an unusual venue.
10 – What kind of crowd is drawn to your shows?
Principally Gothic people loving Post punk, Batcave and New wave music and also some people who love rock music in general.
11 – What has been your biggest challenge?
First, to create this band and then making my music being played outside of my home and played in the biggest Gothic Club in Paris.
12 – What would you say about the music scene today?
I think the mainstream music is actually being too much a "producer music" and not a "Musicians or Composer music". There are too much Major company who focus just on sound and not on melodies. This is why we must listen to underground music, played and composed by passionate people.
13 – Where would you say your music fits in?
In a misty and cold place, with some shades around outlining the shapes of some ladies disappearing in the dark.
14 – How would you move Mount Fiji?
With some guitar chords and synths' subbass!
15 – How do fans react when they see you on stage?
Some people dance on our music and some people close their eyes to immerse their mind into our music and our vibrations. This is really a great pleasure to see people enjoying their selves on our music!
16 – Where are some places you will be playing live in the near future?
We are working to have a show in Paris but nothing really planned for the moment.
17 – Do you have a website?
Our website is still under construction but will be online soon, probably during the next 2 months. Get in touch soon at www.lyncelia.com
18 – How can people get in touch with you?
They can send us messages on Myspace, Facebook or Reverbnation.
19 – Do you use any social media and if so where can people find you?
Yes, you can find us on Facebook  (www.facebook.com/lyncelia), Myspace  (www.myspace.com/lyncelia), Twitter  (www.twitter.com/lyncelia), Reverbnation  (www.reverbnation.com/lyncelia), Soundcloud  (www.soundcloud.com/lyncelia), Youtube  (www.youtube.com/lynceliaofficial), Noomiz  (www.noomiz.com/lyncelia)…
20 – Is there anything else you would like to add?
If you're looking for a deep and melancholic music or if you like Gothic music or 80's new wave, go just listen to our album "Lovelorn"; we hope you will enjoy it and if you really like help & support us by buying the album.  http://lyncelia.bandcamp.com/album/lovelorn