Lyncelia influences, article #4: First & Last & Always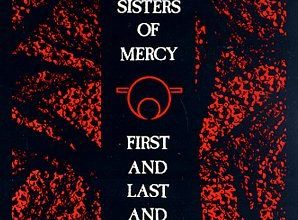 I remember the first time I listened to this album. It was several months after my entry in the Gothic Underground and I saw the name The Sisters of Mercy on each gothic party flyers in the list of music.
I was making my gothic culture to know it better, to feel it, to absorb it and at least to live it. I decided to download on the web this band's albums for, at last, discover what was said a cult band according to all goth people (throughout the world).
I started by listening to the first one, "First & Last & Always" from 1985. The first song "Black Planet" didn't impressed me, honestly it didn't makes effects on me.
The second song "Walkaway" followed with its drum fill introduction, and it was a big blast!
The guitar sound, clear and powerful was perfect with the bass made me thrill. And the voice, what can we say about it? ultra low end voice giving a tragic side to their music.
The other songs followed up and I couldn't escape my ears from these. "No time to cry" and its guitar riffs with chorus/Flanger effects, great sound entering in my head forever. In The Sisters of Mercy I found an echo to The Cure (at that time, Robert Smith got all my musical awareness).
"Marian" was my Goth music passion detonator, even today this song is still one of my favourite. I knew it in parties without knowing it was the Sisters. This song convinced me that I was listening to an album that will be important for me. A masterpiece.
Aerial guitars, powerful bass, a beating drum machine and a low end expressive voice. Both danceable, cold, dark but easy to listen.
After it, I knew that I wanted to play this kind of music. I was looking for a way to express all the melancholia I had deep down in me and The Sisters gave me the keys to this way.
I also found this feel in song "Nine While Nine" with its recognizable guitar riff (later inspiring me the main riff of "Persistence of Vision").
Then the final song "Some Kind of Stranger" closing the album with a powerful song, all in melancholia and retained energy to explode at the end with the great voice of Andrew Eldritch.
End.
I didn't know where I was, I experienced an intense thing that it was hard to came back.
From this, I bought their entire discography that I listened and listened again.
This band remains en exception, often imitated, never equaled.
And you, what do you think about this album?