Lyncelia 10 Years, Article #8: Linxya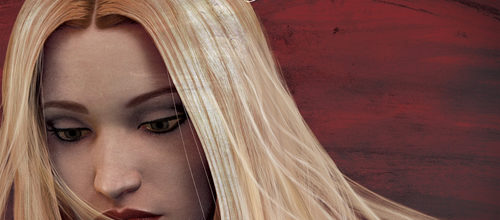 Today I talk about ons of my favourite song (even if I love each song).
It was one of the first song I wrote for this second album. After some compositions that I don't keep, I came to a moment of light with the writing of "Linxya". This song, written in 2009 before the recording of "Lovelorn", was the starting point for this second album.
This one should be better than the previous and I felt that it will be more desperate announcing the worst period of my life to come.
This song is nervous, first of all by the sound a little bit aggressive et by its strong and desperate lyrics.
The lyrics are about accepting our fate and to stop trying to escape it. I use the myth of Andromeda (one of my favourite) who accepted to be sacrificed in the sea to save her people. The song enlighten the fear of what will arrive with the envy to be saved from these torments and then to accept the disillusion and to dive in the floods to be released and free.
I wrote these lyrics in a black period of my life, I was angry before all the disillusion around me, I wanted to change all my life but nothing changed and I accepted it. I transferred all this sickness in this album being a catharsis that allowed me to crystallised all these anguishes in music.
Linxya 
Music and lyrics written by Alexis B.
Towards my destiny? Joining divine beauty
Chains circle my hands; Stretched from each side
Staring afar, the void; Wind caressing my eyes
My regard got lost; In the deep blue sea
______
Save me
Don't let me sink
______
I wait your soul
Rise your eyes to me
______
My sacrificed soul; Abandon to the flood
Filling me with coldness; With insistent wavering
Complete my destiny; The only means to forget
My turned down glance; Saddened
______
Bless me
So let me sink
______
I'm close to dive
______
Let me drown in the waves
I must die for loving you
Let me drown in the waves
I must die for your love
______
I wait your soul
Rise your eyes to me
______
Let me drown in the waves
I must die for loving you
Let me drown in the waves
Let me drown in the waves
…Ato be continued…