Lyncelia 10 Years, Article #7: Unveiled Illusion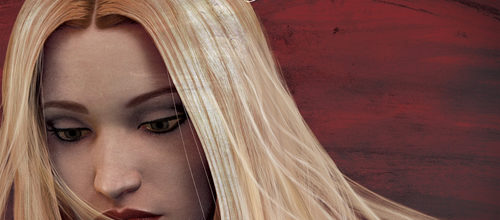 After enlightened the first album "Lovelorn" during the last months, we come to "Assigned, for Disillusion" released in 2013.
I start with the most appreciate song from this album, "Unveiled Illusion" composed in summer 2010.
My intention was to write a danceable songs with New Wave influences, cause at this time we missed this kind of song to balance with the more doomy songs of the album. After being at a concert of friends Malaise Rouge where they played their last song "It was by Love" that was danceable and New Wave, I noticed that excepted "Diamonds" we hadn't a song like that and we needed one.
I started by the first synthesizers notes played on my Virus TI and the riffs that follow. Then I programmed a 4 to the dancefloor new wave drum beat. The tempo was set and I start to work on the guitars. I wanted this song being strong, so the rhythm guitars is based on power chords and the bass had to be focused on the drum beat.
At the beginning, all the guitars was to be clean but finally I choose to get the lead one with distortion to have more dynamics, more power with a slashing sound taking over the instrumentation.
The lyrics (written in january 2012) are about being surrounded by seduction, swirling and dancing. Once the illusion is unveiled, want to be in her arms, stop the time to belong to her and letting all fears being dampen down by her presence.
Unveiled Illusion
Music and lyrics written by Alexis B.
So sweet shape – Spinning around me
Through this night – To wasting dawn
You touched my dreams – Surrounded by your perfume
Inebriated by your glance
Tangled in this veil – veil of illusion
Deafened by this electric presence
So poisonous
______
Evaporating in my memories
Numb by this vision
I follow you
Blinded by your sharpened beauty
Drifting to the tenderness
Of your trembling hands
Drowned in your kiss
______
Take me in your arms
Tight me to oblivion
Let me feel your love
Forever
Take me in your arms
Dampen down my fear
Make me swirling
Forever
______
So slashing beauty – Lacerate my life
Please love me this night
Plant your bitterness – Under my skin
Burn my entire life
And bring me to you
______
Take me in your arms
Tight me to oblivion
Let me feel your love
Forever
Take me in your arms
Dampen down my fear
Make me swirling
Forever
January 2012
…To be continued…