Lyncelia 10 Years, article #11: "L'aventurier"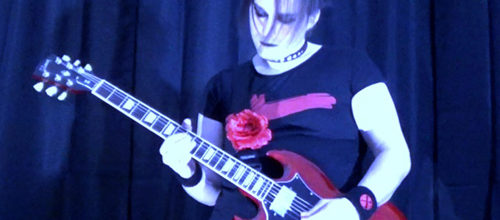 Today for this 11th article we're coming back 3 years ago in 2015 when I did the Indochine Cover with the very first Lyncelia video.
It's been a while I wanted to make a video and more images with Lyncelia. This is with this cover that I realized my beginning in video making to develop the Lyncelia image.
So, why an Indochine cover? Band as much loved than hated, especially in the french gothic scene. You couldn't make a Joy Division cover as the others?
Because Indochine is a band I loved (especially their darker period in the 2000's), they also represents the 80's New Wave years cause they were at the same time as The Cure or Depeche Mode. And also to cover a song known by all french people to a Goth and darker song.
I had the idea of this personal cover in 2014 after working on 5 covers of Indochine for a special show for the wedding of my sister who is a huge fan of this band.
I started to work on this cover on November 2014, I slowed down the tempo to make it darker and enhanced the synthesizers. I thought I could have some difficulties to rearrange but this cover were much easy to do, I had the good ideas at the good time (and this is not like that everyday…).
I needed extra time to adapt my voice to this song, it was not easy. It's easy to sing but I'm not used to sing in french language.
Quickly I wanted to make a video for this cover. It was a source of discord between Claudia and me about the Lyncelia aesthetic that brought us to stop our collaboration few weeks later.
The making of this video is quite cheap, I did it with what I had: a little camrecorder on a tripod, few "cool daylight" lights (on the ground or mounted on clothes dryer), a black curtain before a wall and let's go for the shoot.
The recording took 2 days. The first day for all the guitars, bass, synths, vocals footage. But by watching the rushes, my make up for the vocal parts was too intense so I decided to redo it the next day.
Remains the edition, not easy when you don't know where you're going. I must learn to use the multitrack and to synchronize all tracks to select only the more effective ones.
After this step I felt we missed a female presence. I get in touch with a neighbor and this is Miss Lison that you can see in the video. We took an afternoon to shot it in the street and in my house.
This sequence, even a little too long, gives an interesting dimension to the video. Such a pity I didn't mind to put it all along the video to be more logical.
But this is from our mistakes that we learn and this very first video gives me the envy and the experience to make others and to always want to make it better than the previous.
Since that, I learned more on video making, lighting and edition. It's always interesting to add an artistic practice to Lyncelia and to develop farther this project.
…To be continued…