Lyncelia 10 Years, article #10: "Lost – Anastasia"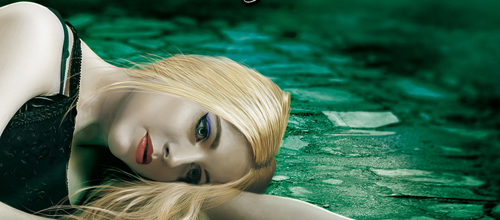 Today I will tell you the story behind the song "Lost – Anastasia".
This is a song written in July 2013 that stayed without lyrics until an encounter that changed my life.
All began in February 2014 with a trip to Estonia.
One friend of mine wanted to see North Europe under the snow and she asked me to come with her. I accepted this proposal that allowed me to come out from my daily routine and discover another country, another culture. I didn't thought it will change my life like that.
First of all, I was upset from the Tallinn atmosphere, we knew we were in the center of old East Russian Block. It should not be easy every day to live here, the revenues are low, cost too but not all. I felt a great melancholia coming from this town that upset me. I felt good and not stressed, the density is low and the streets feels empty for us that are used to overcrowded streets.
This is on the coming back that my life will change. To come back to Paris we must stop in Warsaw in Poland. Once we enter the plain, I saw the glance of a lovely girl with long blond hair. My heart thrilled in my chest, she was placed just at the side of my friend who gave me her ticket so I will be at the side of this beautiful mysterious blonde girl.
I didn't know who I was, nor where I was and I didn't dare to speak to her. I put my headphones on and listened to my Ipod, it was set on the demo song "Lost".
This song in my ears and her subtle presence at my side made a beautiful alchemy. At last I dare to speak to her and to ask for a weird thing: to only know her name to have some inspiration for this song. It was weird but she accepted it and wrote on my notepad these few letters "Anastasia".
Lost in the clouds with her over the skies, I started to write some lines, some descriptions and must of all what I felt during these few hours at her side. I know I will never see her again but I will never forget her. Her perfume, her visage, her glance, her presence will be carved in my memory and on this song.
At our arrival in Paris, I thank her for giving me some inspiration and I greet her for the last time, watching her leaving me for eternity.
Her life is in Poland, mine in France and during this furtive moment I had the impression to live an entire life and feel extreme intensive things. Platonic love in its purest expression.
Lost – Anastasia
Music and lyrics written by Alexis B
Unknown stranger girl – Enhanced blue eyed sea glance
Her subtle fragrance pierces my heart
______
Your youth still breathe your hope – Innocence run by dream
My free will entwined in your light blonde hair
I faint and could ever sink all my entire life
Into the blue ocean of your lovely eyes
______
Lost in the clouds with you over the skies – My blood runs cold
These last moments spent with you – Trying to hang your sweet escaping glance
______
My eyes are afar – But I could perceive you
Your presence, your intensive emotions
I must leave
______
Lost in the clouds with you over the skies
Where are you escaping? My dearest love
I will never see you once more
Let my love touch your sensitiveness
______
I see your heart glow – But I can't love you
My life's not here
I must leave
______
Your life awaits you so far from me
The stolen moment, crystallized
During this out of time
You had divined what I feel for you
The only one I loved
______
The only one I loved
______
Turning backward without remembering me
Disappearing afar – Just leaving your name
Anastasia
…To be continued…