Review of "The Beauty of Doubt" (French Language)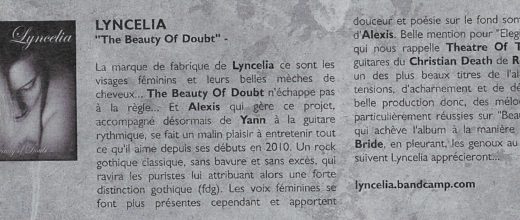 New review for our last album "The Beauty of Doubt" in the french Magazine Twice #71. We thank them for their dedication and review.
"(…) Un Rock Gothique classique, sans bavure et sans excès, qui ravira les puristes lui attribuant alors une forte distinction Gothique. Les voix féminines se font plus présentes cependant et apportent douceur et poésie sur le fond sombre du phrasé d'Alexis.
(…)
Une belle production donc des mélodies variées et particulièrement réussies sur "The Beauty of Doubt" qui achève l'album à la manière de My Dying Bride, en pleurant, les genoux au sol…"